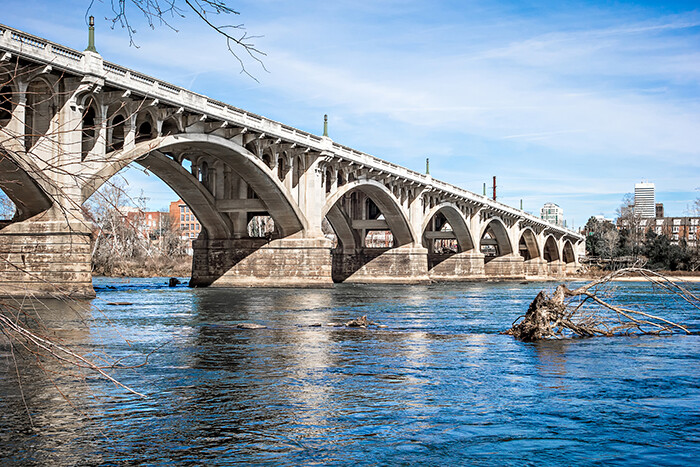 Free Columbia Culture
November 16, 2022
Saluda River Things To Do This Summer
May 8, 2023
There's a stillness that comes with rivers in winter months. Many rivers freeze over up north, while our Saluda River keeps moving in cooler weather and rarely sees ice. But they all know winter.  The sound of water running over rocks is almost more palpable as a brisk wind flows over the river and hits your cheeks. As fish retreat further underwater to conserve their warmth, as birds have flown south to follow warmer temperatures, as friends once sunbathing on riverbanks now gather at their houses around a fire, the feeling a winter river brings is noticeably different. Wintertime on the river is still a gorgeous place to be.

Winter on the river is quieter. Many of the birds have flown south, no one is sunbathing by the water, and there are much fewer boaters due to the colder weather.  You can hear each small ripple of moving water. You can see the large nests beautifully constructed by Bald Eagles and Osprey in trees no longer full of vegetation. You experience the bare bones of the river.
See also - Health Benefits Of Living On The Saluda River
The South Carolina Department of Natural Resources (SCDNR) typically stocks nearly 30,000 trout each year in the lower Saluda from December through February which, despite the chillier weather, makes it a spectacular time to fish.  
For explorers, the Saluda Riverwalk is heaven on earth. From riverfront pathways to lighted trails and boardwalks, and outdoor amphitheaters, visitors can take in all the natural beauty that surrounds the heart of SC, just minutes from downtown.
The views of the Saluda in the wintertime are absolutely stunning; water ripples against smooth, tan rocks, on warmer days, turtles take advantage and sun themselves on branches sticking out from the water. All of this nature and peace so near to a major, metropolitan city is mind-blowing.
We hope you'll have the opportunity to enjoy our Saluda River this wintertime.  If you'd like to build a home in The Reserve neighborhood, please don't hesitate to contact us.